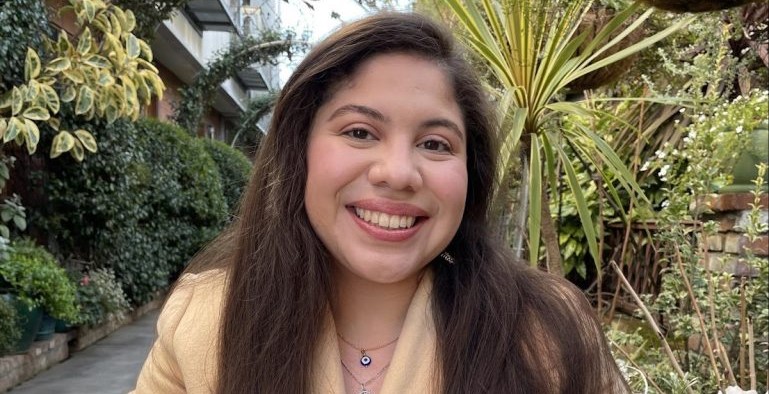 Intern Spotlight: Nicole Herrera-Moro
Apr 29, 2021
University: UC Santa Cruz
Major: Latin American Latino Studies & Spanish Studies
Expected Graduation Date: June 2021
Hometown: Napa, CA
Why did you choose your major?
I decided to major in Latin American Latino Studies to further my understanding of my identity as a Mexicana and to learn about the histories, politics, cultures, and societies of Latin America and the Caribbean, as well the diaspora. My Spanish studies double major has also been a way for me to communicate and connect with my family, friends, and community members. It has allowed me to develop linguistic competence and cultural literacy to understand the perspectives of Spanish-speaking communities in the United States, Latin America, and Spain.
Why is it important to increase Latina representation in politics?
Latina representation in any field, but especially in politics, is necessary because it demonstrates that Latinas are capable leaders who should be in decision-making spaces. Women of color who run for office help pave the way for Latinas by showing us that we have an important voice in directing policies that affect our everyday experiences. Ultimately, greater Latina representation in politics empowers Latinas of all backgrounds to engage in politics, whether it is at the local, state, or federal levels.
Have you learned something during your internship with Latinas Represent that you didn't know before?
I have learned that there are so many spaces, resources, and support systems that will help you transition into politics, network within different spaces, or talk about community care. The team I have worked with has also shown me the importance of checking in with each other and how a group of strong, determined women can accomplish anything.
What are some of your interests and hobbies?
Dancing and cooking have helped me heal and grow. They have also brought me closer to my family because those are times when I get to learn more about my culture and when I can be myself. Making time for health and wellness is crucial, especially during a pandemic.
What are your career aspirations?
I hope to continue working in advocacy and education. I have been a mentor and a teaching assistant for children in preschool through fifth grade throughout my undergraduate experience and have realized how important it is to invest in our communities, especially in the youth.
What inspires you?
My mom, my grandma, and my sisters inspire me. There is a strong matriarchy in my family and their hard work, perseverance, and sense of community stays with me wherever I go. Having them as a support system always reminds me of my abilities and the importance of family and community. My mom always tells me, "Con ganas todo se puede," which gives me the motivation to continue to pursue higher education and work within my community.
Do you have any book or movie recommendations?
Letter to My Daughter by Dr. Maya Angelou
Enrique's Journey by Sonia Nazario
Songs My Mother Sang To Me: Oral Histories of Mexican American Women by Patricia Martín