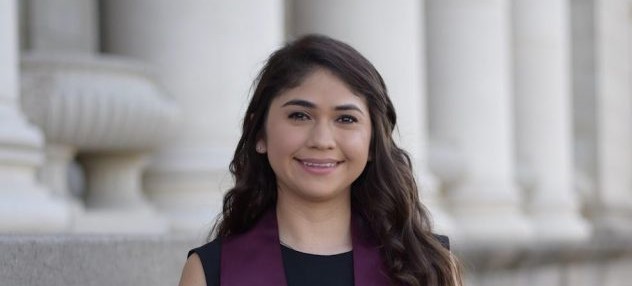 Andrea Flores
Latina Profile
Name: Andrea Flores
Political Experience:
Senior Class President at Texas A&M University (2019)
Cedar Hill Planning and Zoning Commissioner
Location: Cedar Hill, TX
Degree:
B.S. in Agricultural Communication/ Journalism from Texas A&M
Training Programs: LBJ Women's Campaign School, Movement Mujeres Fellow
Overview:
Andrea is a first-generation graduate from Texas A&M University, where she served as the university's first Latina Senior Class President. She now serves on Cedar Hill's Planning and Zoning Board, making her one of the youngest sitting appointed commissioners in Dallas County. She is committed to seeing more women of color represented in politics, which is why she interned at ReflectUS and participated in a variety of women's fellowship and training programs. She was one of the youngest members of the inaugural class of the LBJ Women's Campaign School, a training program at the University of Texas at Austin, and was also a Movement Mujeres Fellow. In the future, she plans to go to law school and hopes to run for office.
NOTE: This interview has been edited and condensed for the sake of length, clarity, and formatting.
You became the first Latina to serve as Senior Class President at Texas A&M. Can you tell us about that experience?
When I ran for Senior Class President, I was the only woman running against seven men for the position, and I won by 18 votes. My slogan was "Minorities are Priorities" because I got tired of my friends continuously saying, "I don't feel like a part of the campus culture and I'm just here to get my degree and leave." I wanted to change that environment for students of color on campus. So, that's why I ran, and we were able to make a lot of changes.
One example is that I started the Latinx graduation ceremony at A&M. We are a Hispanic-Serving institution, so about 25% of the campus population is Latinx, and we felt like it was past due for a Latinx graduation [ceremony]. I gathered a group of 12 Latinx students on campus who were all presidents of their own organizations, and we came together and met every week. And in three months, we raised about $9,000 to put on the inaugural Latinx graduation ceremony. It was beautiful. We had 50 Latinx students attend, our parents attended, my grandpa attended; he came from Mexico. It was bilingual, and we had mariachi and elote and nachos to serve at the end. Our parents were crying. They felt like they understood what was happening and felt very involved. They said it was better than the commencement ceremony! Sadly, we didn't have [a Latinx graduation] in 2020 because of COVID, but I pray that they're able to continue it for many more years.
Was there anything about campaigning at the university level that surprised you?
After filing, you have 2 weeks to run your campaign and those 2 weeks were hard. Nobody ever told me you need a team, you need a social media person, you need someone to organize what organizations you're going to talk to, you need someone who is going to help you make a banner and put that banner across campus, and it was just a lot. I had no idea that the White people on campus pay other students to make their banners or buy t-shirts so people can wear them or make buttons. They spend so much money on their campaigns, and I only spent like $25. I feel like everyone knew except me and it was hard at first because for half of the first week I was doing everything on my own.
It was also so strict. You have to follow all these rules and if you miss something, you're fined or you're disqualified. It's just so easy to get disqualified, so you really have to look into that. It was a lot and in the end, I was so tired. I couldn't even cheer for myself when they announced my name; I just started crying. It was a feeling I had never felt before. It was amazing knowing you worked so hard for something and you won and that all your hard work is going towards something greater.
What other programs, organizations, or clubs were you involved in during your time at university that helped you develop your leadership capacities?
I was in the pre-law society and CMSA, which is the Council for Minority Student Affairs. CMSA basically uplifts the minority community on campus. They were the first organization that I protested with on campus. It was exhilarating to protest and be loud and proud of being who I am and not being afraid to be a Latina on campus.
What drives you to be involved in the Dallas County political advocacy space?
I like uplifting POC [people of color] communities in Texas, and women are my focus right now. I feel like it's because that's what happened to me. Growing up, my friends uplifted me, my community uplifted me, so I want to be able to give that to other people as well, uplift them in any way I can to help them become everything they're supposed to be.
You were selected to be part of the Zoning Board in Cedar Hill, which is a part of Dallas County. Can you tell us more about why you applied and what the Zoning Board does?
Originally, [my intern supervisor] Cecilia [Silva] at ReflectUS gave me a project to look into all 31 cities in Dallas County and find out the process to apply [to the Boards and Commissions] of each one. And when my city [Cedar Hill] came up in Dallas County, I saw that applications were open. I applied the night I was doing the project and had an interview.
Cecilia told me to make copies of my resume, references, and a letter of recommendation, and to know how many council members there were, including the city manager and city mayor. When I got there and I showed them my resume, they were like, "Oh, wow, you have copies for us," so I think that really made an impact, especially since they were interviewing so many different people.
In my city [Cedar Hill] in Dallas County, [the Zoning Board] will look at an empty lot or piece of land and we'll review it and basically say if we think it would be the best fit for a school, house, mall, restaurant, or other category. So we'll label it as what we think it's best fit for so that whoever buys that land knows what to build. I think it's cool because I'm part of the group that's going to bring new things to the city where I grew up.
Did you have any mentors who guided you?
To be honest, I never had a mentor in college. I would say that my family was supportive of me, and I'm very faith-based. I believe in God and La Virgencita de Guadalupe. I would say they were my mentors because when I was running for office in college, I would pray every night and ask for guidance, confidence, and fearlessness.
What advice do you have for Latinas in university who are thinking about getting involved in politics?
I would say we deserve a seat and representation at the table. I feel like we need more Latinas to know that we can break that barrier of what society thinks of us. Don't allow society to narrate your story. Create your own story. Navigate your own story. Be fearless.
I always think of this concept as well: When White men approach new opportunities, they might not be qualified or eligible, but they still go for it and they still get it. As women of color, we're always questioning ourselves, and if we find one thing we think we "can't fulfill," then we just take ourselves out of [the running] completely. I always tell myself to approach new opportunities like a White man. I might not be fully capable, fully eligible at this time right now, but I'm gonna go for it and we're gonna see what happens. So just try things out. We're young; this is a time when we can try so many things. This is a time when we can make mistakes and find out where we fit.
What are your plans for the future? Are you thinking about running for office at the local, state, or federal level at some point?
For future plans, I'm currently on my journey to apply for law school. I would be the first in my family to ever pursue a law degree, so that motivates me. After law school, I pray that I'm able to run for a position in Texas. I want to continue building up that ladder of being fearless and testing my limits and maybe run for mayor, governor, or state representative.