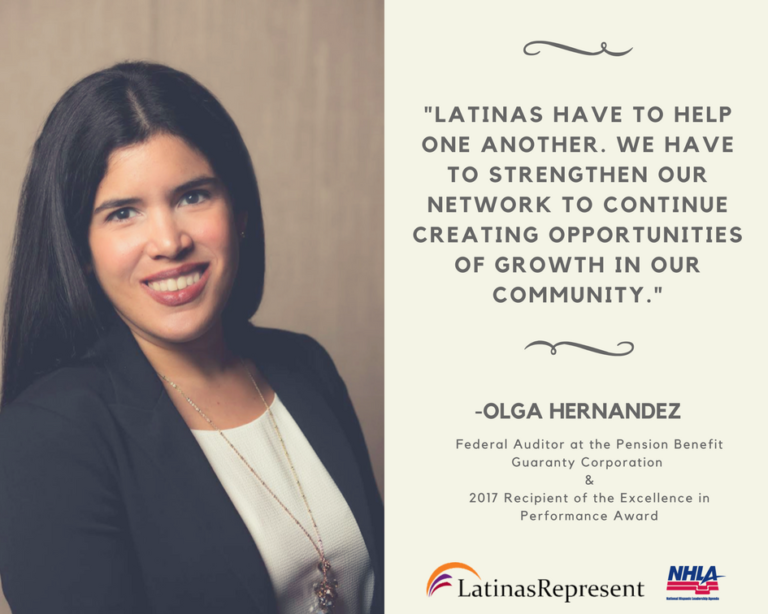 Olga Hernandez Cruz is as an auditor at the Pension Benefit Guaranty Corporation, a federal government agency in Washington D.C. dedicated to protect the retirement security of nearly 40 million Americans. She started her federal career as a Hispanic Association of Colleges and Universities intern in the summer of 2011. She is very active in federal Latino diversity initiatives as president of PBGC's Hispanic affinity group. Olga served as Vice Chair for Fundraising of the HACU Alumni Association in which she raised money for alumni and DREAMers scholarships. She is also an alumna of the Mujeres de HACE Executive Leadership program. Olga has a Bachelor's Degree in Accounting from the University of Puerto Rico Mayaguez Campus.
Olga is the 2017 recipient of the Excellence in Performance Award. The Excellence in Performance Award recognizes an employee's contributions to the PBGC Director's priorities and who has shown exemplified dedication in striving to complete the immediate goals of PBGC's Director. As the MEPD audit team grew in 2016, there was also a growing need to train the new auditors. Olga took the initiative, outside of her assigned responsibilities, to create training materials, detailing the division's audit procedures from start to finish, as well as how to use the necessary software to complete their team goals. Additionally, Olga held several in-person training sessions to answer any questions. These trainings had a significant impact on the department's production goals, quality of work and ability to meet the deadlines, helping fulfill PBGC's mission.
Subscribe to our Newsletter
Stay up to date with the latest news and events from LatinasRepresent.