"There's a problem with US leadership when Latinas aren't represented in Congress and state legislatures," wrote Elaine Ayala in the San Antonio Express News, announcing the Latina Leadership Forum launch hosted by the San Antonio Hispanic Chamber of Commerce (SAHCC) and LatinasRepresent.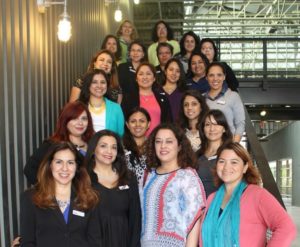 A joint initiative of Political Parity and the National Hispanic Leadership Agenda, LatinasRepresent seeks to advance more Latinas in public office. The initiative first came to San Antonio last year at an event that motivated us to collaborate and eventually launch our brand new leadership program: the Latina Leadership Institute (LLI).
This six-month program, one day per month, is a non-partisan, issue-neutral leadership program, whose mission is to increase the number and influence of Hispanic women in elected and appointed office positions in the United States. LLI is designed to build the skills, knowledge, and confidence that Latina leaders need to run for elected office, apply for White House appointee positions, and increase their civic engagement by serving on boards and commissions.
"Inspired by the nonpartisan program Political Parity, which strives to increase the number of women in high-level office, and its LatinasRepresent initiative, I'm thrilled to announce that the Hispanic Chamber is launching the Latina Leadership Institute to help more Latinas run and win," said Sonya Medina Williams, co-chair of the Latina Leadership Institute for the Hispanic Chamber.
After receiving an outpouring of applications, our Steering Committee carefully selected 21 applicants to join the inaugural cohort.
The first class, on May 22, was a smashing success, and an emotional one, as we began to see the fruits of our labor. Dr. Christina Bejarano joined us from the University of Kansas to speak about her books, The Latina Advantage and The Latino Gender Gap, and present findings from her research on Latina candidates and politicians in Texas. Inspired by her data and presentations, our inaugural class has decided and committed to serve as a focus group for Dr. Bejarano's next book.
Nadia Farjood, Senior Manager of Strategic Initiatives at Political Parity, joined via webcam from Cambridge. She guided students through the new LatinasRepresent website and online resources, including webinars led by Latina leaders and questionnaires to use when deciding to run for office. Erika Prosper, Director of Customer Insights for H-E-B (San Antonio's leading grocery store), spoke about the unique skill set that Latinas provide in corporate America and beyond.
The second class took place on June 19 and focused on "Crafting Your Public Narrative." We visited Univision Communications, Inc., where participants plunged into mock-interviews. Lionel Sosa, media mogul and

communications strategist, then gave a special presentation on "Branding Yourself." Lionel Sosa provided some great details about goal-oriented thinking. He encouraged the participants to write their goals and post them somewhere they can see them each day.
"Don't run to run…run to WIN"
In the afternoon, we were joined by Elaine Ayala, reporter for the San Antonio Express News, who offered tips to be aware of your personal social media. She emphasized that when you are running for office (and even when you aren't), everything you post becomes a part of public dialogue and can be quoted or misquoted by local media. We discussed the importance of "off the record" reporting and being aware that nothing is truly "off the record."
Later in Class 2, participants heard from Councilman Ron Nirenberg (District 8 San Antonio) who focused on the importance of having a 30-second elevator speech ready. The class also heard from guest speakers: Ramiro A. Cavazos, President & CEO, San Antonio Hispanic Chamber of Commerce; Anathea Chino, political stylist and consultant; Laura Barberena, political consultant and campaign manger; Dr. Barbara Arranda-Naranjo and Monica Cruz, the University of the Incarnate Word Ettling Center for Civic Leadership; Rosie Gonzalez, consultant; and more.
Future classes will cover a plethora of topics: White House appointments, voter engagement, voter tactics and current data, social media, finding your voice, grassroots and ground game strategy, building your portfolio, networking, fundraising, and more!
These leading Latinas will go on to do amazing things in San Antonio. Many of them are already active with the San Antonio Hispanic Chamber and the local community. We look forward to working closely with them on their journeys, and inspiring many more strong Latinas in years to come. For information about applying to the Latina Leadership Institute, visit: www.sahcc.org.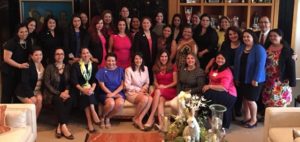 Meet the 2015 Class:
Melissa Aguillon, President & CEO, Aguillon & Associates, LLC
Sofia Bahena, Education Associate, Intercultural Development Research Association
Jaymie Balboa-Mangelsdorf, Director for Governmental Relations, University of Texas Health Science Center at San Antonio
Adriana Becerra, Assistant Director, Pre-K4 SA South Education Center
Melissa Cabello Havrda, Attorney, Heard and Smith, LLP
Emily Calderon Galdeano, Director of Research, Excelencia in Education
Patricia Castillo, Executive Director, The P.E.A.C.E. Initiative
Melanie Castillo, Attorney, Castillo Snyder P.C.
Irene Chavez Maldonado, SBEDA Economic Development Manager, City of San Antonio
Andrea Guajardo, Director of Community Health Outreach, CHRISTUS Santa Rosa Health System
Michelle Martinez, Owner, M+M Communications
Patricia Morales of the Southwest School of Art
Laura Elizabeth Morales-Welch, Public Affairs Senior Account Executive, KGBTexas
Lucy Ortega, Policy and Special Projects Manager, Avance, Inc.
Coda Rayo-Garza, Director of Zoning & Planning, City Councilman Ron Nirenberg's office
Ruby Resendez, Managing Partner, Cilantro Creative Graphic Design Agency
Marisol Robles, Small, Minority, and Woman-Owned Business Program Manager, San Antonio Water System
Melessa Rodriguez of DeBerry Group
Sandra Lorena San Miguel of the University of Texas Health Science Center at San Antonio
Judy Trevino of the Brooks Development Authority
Amanda Villarreal of Acenar
A special thanks goes out to the 2015 Latina Leadership Institute Steering Committee:
Brianna Dimas is the Director of Education and Leadership for the San Antonio Hispanic Chamber of Commerce. She is the staff lead of the Hispanic Chamber's three leadership programs: The Alexander Briseño Leadership Development Program, Leadership San Antonio, and the Latina Leadership Institute in addition to the Annual CORE4 STEM Expo programs, which encourage minority students to pursue careers in STEM.  A graduate of New York University, Brianna is passionate about impacting change in Texas and nationwide, and is a strong advocate for access to education and diversity.   
Subscribe to our Newsletter
Stay up to date with the latest news and events from LatinasRepresent.